Comparison of the gameplay and detailed differences between single-row roller skates and double-row roller skates. So that you can choose the type that you like.
1.

Speed:
Double row playing on the smooth wooden floor indoors is as fast as single row.
2.

Fitness:
Double row is sensitive to the development and balance of all aspects of body organs. Single row cannot help you, only double row. Because the single row is too easy to balance and not easy to fall.
3. Technique: A double row master is definitely a single row master; but a single row master may be a double row rookie.
4.

Venue:
Double row is the most adaptable and professional; single row is only suitable for concrete floors and street sides; in Shanghai and Beijing large indoor roller skating rink, single row is rejected, because single row will deplete the indoor wooden floor. (There are only two types of skating, one is roller skating and the other is real ice. Similarly, there are also two types of the most advanced skating venues, one is indoor wooden floor skating rink and the other is indoor real ice rink. But single row is in these two places All repellent.)
5.

Pattern:
Double row is easy to fall, single row is not easy to fall, double row foot support is flexible, single row foot support is fixed, so the support has already controlled a lot of performance tricks.
6.

Professional:
If you want to affirm your actions, challenge more tricks and have more happiness and satisfaction, single row can't help you, only double row!
7.

Crowd:
Double row is the most difficult! ! ! Also loved by masters. People who play double row are boring and boring to play solo row. Double row is suitable for older children and adults, single row is suitable for younger kids. Ice skates are not suitable for children because they are the most dangerous.
8.

General:
Double row and single row skating skills and methods are different. Because the solo skating method is roughly the same as that of real ice figure skates and ball skates, it can only be used as an auxiliary tool for on-road training of ice skates. You can't use your solo to play on wooden floors, let alone take your sling. When it comes to the real ice rink, it only plays on those ice rinks with concrete floors or open-air porcelain tiles and marbles, or even on the street.
9.

Practicing:
Because of the different leaning methods, if you practice double volleyball, you will fly to practice single volleyball without being half-hearted, because it will slow down your practice speed.
10.

Cost:
The inline wheel is the cheapest, the quality is ordinary, and the cost is the least. The double-row parts are complex, with better quality and higher cost. The most costly ice skates are the ice skates. The field is limited to the surface of the ice. At least dozens of dollars are required to enter the real ice rink! ! Especially the students, not to mention running the real ice rink every day.
single-row roller skates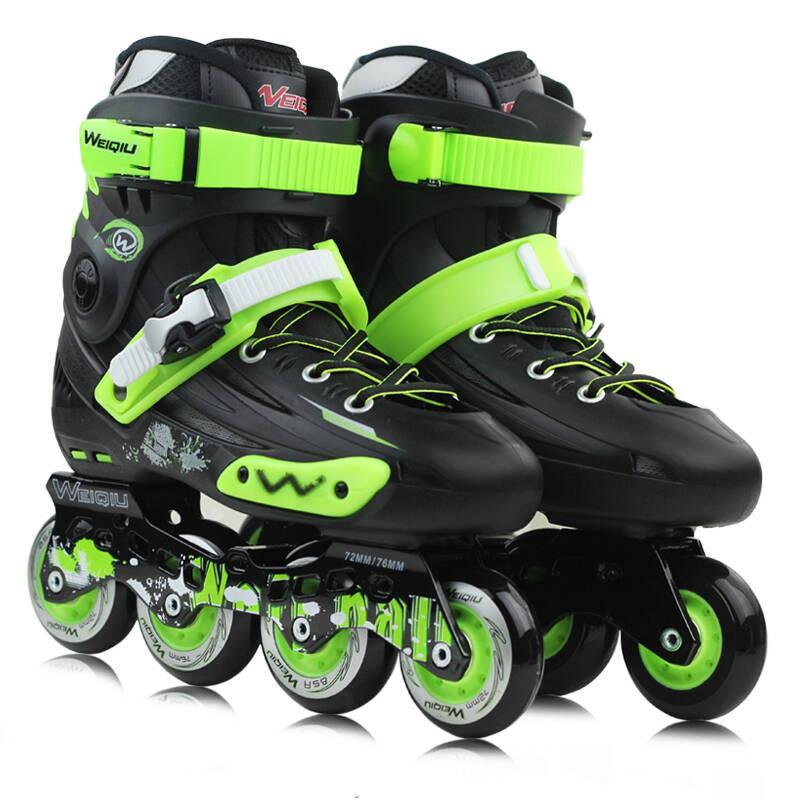 double-row roller skates