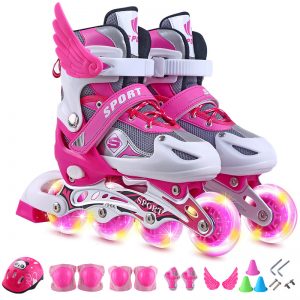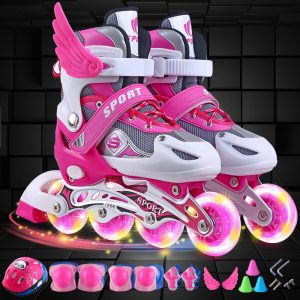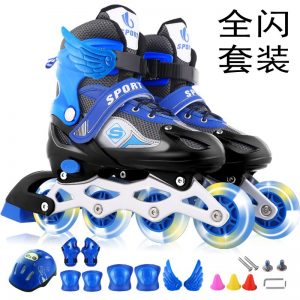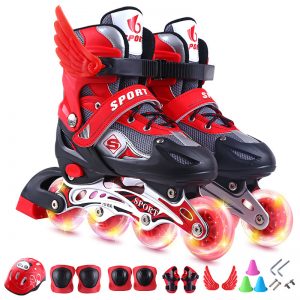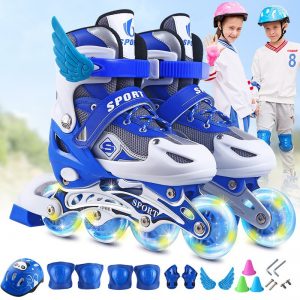 Product Description
Product Type
Roller skates
Upper material
Pu+ Mesh
Sole material
PU
Wheel type
Single row
Applicable gender
Universal
Item No.
Flat shoes
Wheel material
PVC
Size
S small size (suitable for usual size 26-32) can be adjusted, M medium size (suitable for usual size 33-37) can be adjusted, L large size (suitable for usual size 37-41) can be adjusted
Color
Red full flash suit (including helmet protector), blue and white full flash suit (including helmet protector), black and blue full flash suit (including helmet protector), pink full flash suit (including helmet protector)
Order Lead time
10~20 days
For childen
Yes
Custom
Accept custom logo and print, packaging
More Detail
 Material: Textured surface, soft surface breathable composite material (sandwich mesh cloth increases breathability), easy to protect the feet;
Bracket: Two-piece aluminum alloy bracket with composite structure, good pressure resistance;
Size: adjustable
Shoe shell: novel style, new materials, toughness, good gloss, abrasion resistance, impact resistance and no damage;
Wheel: PVC fruit wheel perfusion wheel,
Brake: Design wear-resistant brake;
Bar buckle: Design a fast tightening and safe bar buckle system; strengthen the straps.
Roller skating itself does not produce any pollution, advocates the concept of healthy environmental protection, is a fashionable healthy sport.
Fitness
Roller skating is a systemic exercise. It can promote the improvement of the cardiovascular system and the respiratory system and the enhancement of metabolism. For example, it can promote the improvement and metabolism of the cardiovascular system and the respiratory system. It can strengthen the arms, legs, waist, The strength of various muscles in the abdomen and the flexibility of various joints of the body, especially in the mastery of balance ability, are of great help and coordination. At the same time, roller skating is also a healthy aerobic exercise. Generally speaking, the maximum oxygen consumption of roller skating (the benchmark for measuring exercise intensity) is 90% of running, and maintaining the optimal intensity of aerobic exercise is effective to maintain 23km/ The heart rate measured during hr's speed roller skating is 74% of the maximum heart rate. This is a typical aerobic exercise that can strengthen the cardiovascular system and burn fat. Therefore, there are more and more girls taking roller skating as a sport to improve their body shape and lose weight.
Instrumentality
In addition to the above-mentioned characteristics, roller skating also has a characteristic that many sports do not have, that is, it can be used as a means of transportation. Under normal circumstances, roller skating can be used as a means of transportation on flat roads. Of course, the grip will vary depending on the road conditions, but there is basically no problem. In today's increasingly congested traffic, roller skating has become a popular and fashionable means of transportation. Of course, I still want to remind everyone that you must pay attention to traffic safety when skating through the streets where cars come and go.
safety
As a very popular sport, in addition to the entertainment and excitement of extreme sports, roller skating is very important because it has strong safety. In a recent research report from the University of Massachusetts, a surprising discovery was made: the impact of inline skating shoes on the joints is about 50% lower than the impact of running on the joints. This is mainly because roller skating is not the same as running, which causes the wheels to rotate when stepping. The elasticity of the wheels made of polyurethane has little impact on the joints. Therefore, the elderly and children are also suitable for this sport. Wear a helmet and protector. The risk of injury after a fall is very small.
Economy
As a simple and economical sport, when you play roller skating, apart from the roller skates and protective gear that you need to stock at the beginning, you hardly need to spend any other expenses. These sports equipment have a long service life and do not need to be replaced all the time. In addition, roller skating is not like swimming tennis and other sports. It requires a specific sports venue, and it costs a very expensive membership fee to apply for a membership card to enter the professional field for practice.
Convenience
As mentioned in Article 5, roller skating does not require a specific sports venue, and even special events such as roller skating road races held on the road. These show the convenience and speed of roller skating. At the same time, roller skating Another major feature is environmental protection, which neither consumes energy nor causes environmental pollution. Therefore, there are basically no worries about playing roller skating. As long as you want to play, there is no hesitation. You can enjoy the fun of roller skating by finding a smooth road.
Irritating
Although roller skating is an extreme sport with a relatively low risk factor, it is actually limited to amateur leisure players. For example, extreme roller skating is still a very challenging and exciting sport. Extreme roller skating is mainly divided into street-style extreme roller skating and professional field extreme roller skating, and professional field competitions can be divided into prop competitions and half-pipe competitions. These competitions are mainly to do some dangerous moves, such as getting off the ladder, jumping from the platform, and in the air. The judges rate the action based on the difficulty and completion of the action. While feasting the audience, it will definitely let you experience the unparalleled excitement of roller skating.
Ornamental
The initial appearance of figure skating was for figure skating training, so the viewing qualities of the two are almost the same. Another item of roller skating-flat surface fancy roller skating is also very ornamental. When engaged in flat-land fancy roller skating, athletes wear roller skates and flexibly use a variety of flexible footwork to bypass obstacles placed on the ground. Their agility and dexterity often amaze the audience and continue to applaud. The speed roller skating is similar to running. It pays more attention to speed, so that it is the one that is relatively unappreciable among the three individual events of roller skating. However, due to the high speed and difficulty of the movement, speed roller skating still looks It is very exciting.