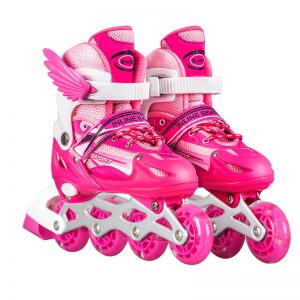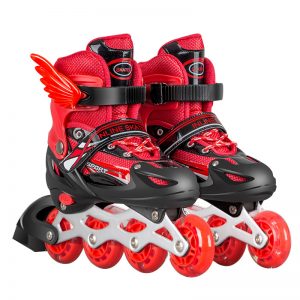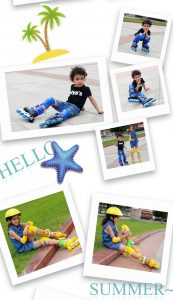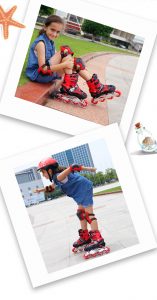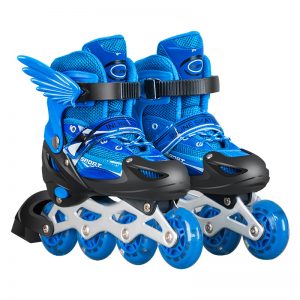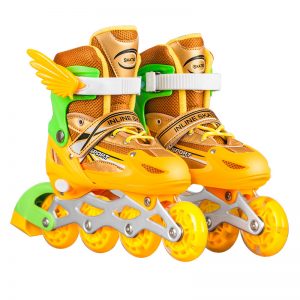 Product Description
Product Type
Roller skates
Upper material
Pu+ Mesh
Sole material
PVC
Wheel type
Single row
Applicable gender
Universal
Item No.
Flat shoes
Wheel material
PU
Size
Pink S code (26-32 code) adjustable, pink M code (33-37 code) adjustable, pink L code (38-42 code) adjustable, blue S code (26-32 code) adjustable, blue Color M code (33-37 code) adjustable, blue L code (38-42 code) adjustable, red S code (26-32 code) adjustable, red M code (33-37 code) adjustable, red L size (38-42 size) adjustable, gold S size (26-32 size) adjustable, gold M size (33-37 size) adjustable, gold L size (38-42 size) adjustable
Color
A pair of single flash shoes
Order Lead time
10~20 days
For childen
Yes
Custom
Accept custom logo and print, packaging
More Detail
 Material: soft and breathable composite material (sandwich mesh), easy to protect the feet;
Bracket: Two-piece aluminum alloy bracket with composite structure, good pressure resistance;
Size: free transfer (different code segments 31#–34#, 35#–38#, 39#–42#);
Shoe shell: novel style, new materials, toughness, good gloss, wear resistance,
Wheel: colorful fruit wheel perfusion wheel, with good flexibility
Brake: new design wear-resistant brake
Buckle: Quickly tighten the safety bar buckle system; strengthen the straps.
This is the price of a pair of single flash shoes, and the single flash is a PVC wheel.

 

 
Introduction to roller skates
The skating sport of Westerners can be traced back hundreds of years. Interestingly,
Roller skates
In London, a relic of ancient ice skating, the sliding wood on a snowmobile, was excavated. According to research, this sliding wood is from the 12th century. The Nordic people slid over the ice with a bone-made sliding device tied to their feet.
The first record of skating in history books appeared in 936 AD, because that year a Dutch skating enthusiast was killed on ice, which left an unforgettable memory. Around 1572, there was a case in Dutch history that the Dutch defeated the Spaniards by water and land by skating. Once, the Spanish fleet met with the Dutch fleet. Due to sudden changes in the weather, both fleets were unable to move due to the ice on the sea. At this time, the Dutch formed a skating team of soldiers who could skate and launched a quick attack on the enemy. The Spanish were caught off guard. , Suffered a disastrous defeat. The other time the Dutch infantry skating team launched an attack on Spanish soldiers stationed on the ice. The Spanish soldiers did not know how to skate.
Without the power to fight back, they were all killed. At this time, the Dutch were already using iron skating tools. Today's steel ice skates followed the iron ice skates.
In the early days, ice skates were strapped to the feet with leather straps. Later, the ice skates were clipped to the shoes or strapped to the shoes. The ice skates of modern skates are permanently fixed to the skates.
An epoch-making event in the history of speed skating is that in 1902 the Norwegian A. Paulson and Ha Hagen invented the "knife-tube" ice skate. This invention greatly improved skating technology and its performance.
Skates
Roller skates are commonly known as roller skates or roller skates. Roller skates are divided into single row and double row wheels.
The origin of inline skates is very interesting. It is said that as early as 1100, in order to hunt in winter, hunters put bones under the soles of long leather shoes, which is regarded as the earliest model of roller skates. In 1760, a London musical instrument manufacturer, Josef Marin, invented a pair of roller skates with wheels. The wheels were small and made of metal. He wore these skates to a masquerade party, skating while playing the violin. Although he himself eventually fell into a "several and ill-fated", he created a precedent for roller skating. In 1819, Mansier-Pettibo invented another kind of roller skates, with wooden blocks as the sole, and wheels underneath, which are arranged in a line. But because of the different sizes of each wheel, this kind of shoe can only slide forward. In 1863, American James finally invented a pair of side-by-side four-wheel skates, which can do various movements of turning, forward and backward. This is the most widespread roller skate now.
In 1863, the American James invented the first pair of double-row skates. The four wheels were divided into two groups, the front and rear, and the two axles pierced two wheels. The bearings on the four wheels can make the wheels turn very steadily, and can make various movements of turning, forward and backward. This is the most widely used roller skates now widely spread. There is a piece of rubber on the front end of the skates, which is used as a brake to stop. The four wheels of the double-row skates are on the same plane, and the skater feels very stable. In international pattern competitions, double-row skates are designated special shoes, and athletes can use double-row skates to complete a variety of tricks.
Double-row skates are not only used for skating rink sports and leisure, they also appear in some large shopping malls or restaurants. Energetic waiters skating in the shopping malls are constantly shuttled, which can effectively improve work efficiency. Modern roller skates generally have double-row wheels and single-row wheels, both of which are much faster than before.
Skating sports are divided into figure skating, ice hockey and speed skating, so according to different sports, skates should be equipped with different ice skates. If you want to choose a pair of skates that suit you, you must first determine what kind of skates you want for skating events. The skates used in different events are different, so you need to understand
Features of various items and various ice skates:
The flower knife is a figure skating ice knife. The front of the knife has protruding teeth. The principle of sliding is the same as that of walking. Figure skating is difficult and requires high stability. Therefore, the waist of the shoe is hard and high to protect the ankle knives. The blade is wide and there is a groove in the middle, and the knife body has a curvature to facilitate turning and footwork. There are teeth on the front of the blade to facilitate the braking of jumping, falling and rotating. Beginners generally choose figure skating shoes. 2. Ball Knife Ice skates used for playing ice hockey, the blade is smooth and not long. Ice hockey events are very antagonistic and require good maintenance measures. Therefore, ice hockey shoes have a hard toe, a high waist, and a thick upper. Move flexibly and change the direction of sliding on ice. 3. Speed ​​skating blades used in speed skating competitions,
Longer than ordinary knives (ball knives, flower knives). The main feature of speed skating is fast speed, so the speed skating blade has a long blade, a narrow and flat blade, a large skating area and low friction resistance, and a short waist to lower the body's center of gravity and reduce air resistance.
Figure roller skates, also known as roller skates, roller skating sports equipment. Leather. The height of the shoe waist reaches to the ankle, the hard upper, the heel is slightly higher, and the bottom is firm. Men's shoes are generally black; women's shoes are white. The wheel carrier is made of metal, equipped with two small pulleys at the front and rear; there is a brake in the front to adjust the distance to the ground. Both the front and rear wheels can be twisted to the left or right. The wheel and the support are connected with rubber pads and fixed with screws.