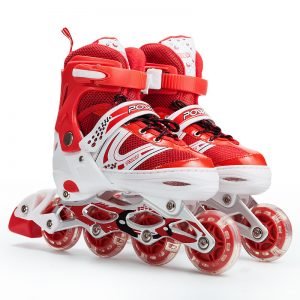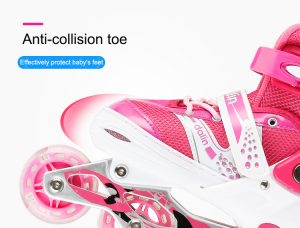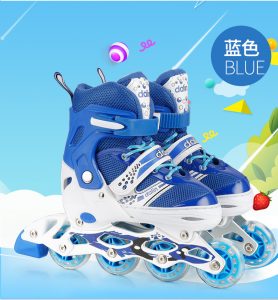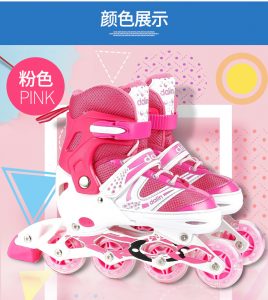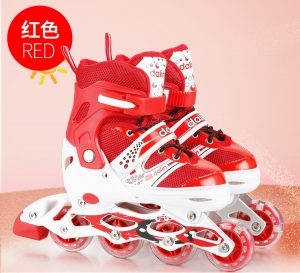 Product Description
Product Type
Roller skates
Upper material
PVC
Sole material
PU
Wheel type
Single row
Applicable gender
Universal
Item No.
Flat shoes
Wheel material
PU
Size
S(30-34), M(35-38), L(39-42)
Color
Pink,blue,red
Order Lead time
10~20 days
For childen
Yes
Custom
Accept custom logo and print, packaging
More Detail
 

Material: Textured surface, breathable composite material (mesh cloth increases breathability), easy to protect the feet;

Bracket: Two-piece aluminum alloy bracket with composite structure, good pressure resistance;

Bearing: (ABEC-7);

Size: S(30-34), M(35-38), L(39-42)

Shoe shell: novel style, toughness, good gloss, abrasion resistance, impact resistance and no damage;

Wheels: shiny PU rubber wheels, with good elasticity and comfortable foot feeling;

Brake: Newly designed wear-resistant brake;

Shoe buckle: Newly designed fast tightening safety bar buckle system; strengthened straps.
Roller skating (Roller skating), commonly known as roller skates, originated in the Netherlands. It is a competition event that uses special roller skating as a competition tool, and it is also a life and leisure thing. Most skaters today mainly use inline skating wheels, also known as yo-yo, 66. (The nickname for inline skating enthusiasts for this sport comes from the sound made by the wheels rubbing against the ground in skating. Skates are also called "brushes" and skating on the road is called "street brushing").
Roller skate industry definition and classification
casual shoes
Of course they are the most common shoes and the most common shoes in China. Common after all.
Pattern shoes
In fact, this kind of shoes should be familiar to everyone. In the old skating rink, the double-row wheels are the pattern shoes.
Flat shoes
The requirements for shoes are relatively high. A pair of good flat shoes should have a short tool holder, suitable for flat BANANA wheel arrangements (small front and rear wheels, large middle wheels, easy to turn), harder upper shoes, high and high Tight upper.
Speed ​​skating shoes
Semi-soft upper shoes, but the body of the shoe is not soft, it can be said that it is actually hard, usually low-top shoes, relatively long knife holder, there are 4 or 5 rounds of arrangement. Larger wheels, good bearings.
Hockey shoes
Semi-soft upper shoes, more comfortable shoe body, forward-leaning knife holder, HI-LO wheel arrangement (the front 2 wheels are small and the rear 2 wheels are large, which is convenient for acceleration. There is also a saying that the front 2 large wheels and the rear 2 small wheels , Convenient to stop, no specific study).
Extreme shoes
The blade holder is relatively low, the shoe body is very thick and covered, the wheels are quite small, the extreme shoes with double wheels, there is a card slot on the blade holder, and the side of the shoe body is relatively wide. These designs are convenient card props.